MixedBag will lean heavy on the adventure.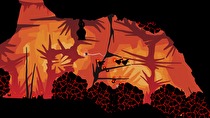 Italian developers MixedBag have announced three games for the Switch intended to release this year, with the first one coming next week.
The MixedBag slate will start with forma.8, which released on New 3DS and Wii U back in February. The atmospheric platformer will release on the Switch next week for $9.99 / €9.99 / £8.99.
October is the planned release date for Wheels of Aurelia, a game that fuses isometric racing with a branching narrative set in 1970s Italy. Twin-stick shooter Atomine is slated to follow by the end of the year.