A new Gym system, items, group raids, and more.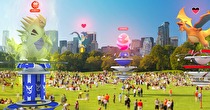 An update to the existing Pokémon Go Gym system will be slowly rolling out around the world over the next few weeks. In order to prepare for the update Pokémon currently in Gyms will return to their owners. The Gym update will consist of multiple changes.
Gyms will soon also function as PokéStops. Similar to existing PokéStops, players can spin the Photo Disc to get items.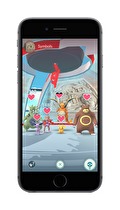 After the update Gyms will only allow for six Pokémon to be held within, however it will no longer be necessary to Prestige the gym up. All six slots will be open for the controlling team. Additionally the slots will have to be filled by unique Pokémon, meaning no double representation of any one species of Pokémon. (Different evolutions of the same Pokémon ARE allowed.)
A new motivation system will be put in place within Gyms. When a Pokémon is placed within a Gym it will have a motivation bar displayed. Pokémon will lose motivation over time and if they are defeated in battle. Once a Pokémon loses its motivation it will be returned to its owner. A Pokémon's CP will also decrease temporarily when its motivation drops making it easier to defeat. Players will be able to increase their Pokémon team's motivation by feeding the Pokémon berries.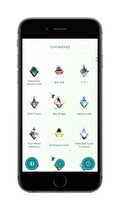 Players will also earn PokéCoins in a new way through Gyms. A Pokémon will earn a number of PokéCoins based on how long it has defended a gym. Once its motivation hits zero and it returns to the trainer players will be reward with a number of PokéCoins.
Gym Badges are also being added to the game and appear in screen shots to be unique for each gym. These badges can be leveled up by battling, feeding Pokémon berries, and by spinning the Gym's Photo Disc. Raising the Gym Badge level will increase rewards earned from Gyms.
Raids are also coming to Pokémon Go Gyms. When a Raid is coming all Pokémon in the Gym will return to their Trainers and an Egg will appear in top of the Gym with a countdown timer. When the timer hits zero the Raid Boss will be revealed and up to 20 players can fight it. In oder to attack the boss Player's will need to use a Raid Pass (new item) which everyone can get for free once a day at any Gym. Premium Raid Passes will also be available through the in game shop.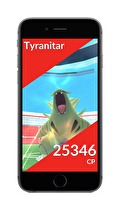 During the Raid players will have five minutes to beat the boss. Successful completion of the Raid will award players with the chance to catch an "extra powerful" Pokémon. Additionally some new items will be given to players who complete raids including:
Rare Candy: When used on a Pokémon it will turn into that's Pokémon's candy.
Golden Razz Berry: Greatly increase the chance of catching a wild Pokémon.
Technical Machine Fast: Teach a Pokémon a new Fast Attack.
Technical Machine Charged: Teach a Pokémon a new Charged Attack.