Shigeru Miyamoto confirms Pikmin's fourth instalment is in still in development.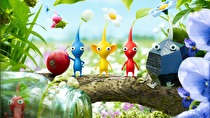 Pikmin 4, which was absent at this years E3, is "progressing", legendary Nintendo producer Shigeru Miyamoto said.
In an interview with Eurogamer's Tom Phillips, Miyamoto says that the Pikmin 4 project is still in development, though he couldn't say much more at the moment.
"I've been told not to share anything about this from PR," Miyamoto told him, "but I can tell you it is progressing."
A fourth entry in the long running Pikmin series was first discussed by Miyamoto back in 2015 in an interview with Eurogamer. Hey! Pikmin, a side scrolling game for the Nintendo 3DS, is due for release July 28th.