The champions are back.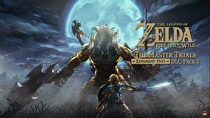 Nintendo outlined the DLC planned for Breath of the Wild with a new trailer during their E3 Spotlight.
The 1st DLC pack will introduce a new mode called "Trial of the Sword", and seems to feature waves of enemies for Link to fight without using any previously obtained equipment. The trailer shows floating Bokoblins and a higher difficulty "Master Mode", "The Master Trials Expansion Pass" will arrive on June 30.
The 2nd DLC pack looks to heavily feature the 4 Champions, "The Champion's Ballad Expansion Pass" will release sometime Holiday 2017.
New amiibo were also showcased for use in Breath of the Wild. Daruk, Revali, Urbosa and Mipha were announced and will work with the new DLC as well as the original game.