For those who like mapping, demons or time travel, we have some great news.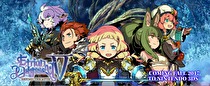 UPDATE: Atlus has confirmed Etrian Odyssey V, Radiant Historia Perfect Chronology and Shin Megami Tensei: Deep Strange Journey for North American release. Original story follows.
A user on the NeoGAF message board has spotted some links on Atlus's website that point to three unannounced localizations.
Test pages have been found for Etrian Odyssey V (subtitled Beyond the Myth), Radiant Historia: Perfect Chronology and Shin Megami Tensei: Strange Journey Redux (Deep Strange Journey remake) on Atlus's website. Etrian Odyssey V is a fall 2017 release according to the pages, while Radiant Historia and SMT would both be early 2018.
No page has been found for Etrian Mystery Dungeon 2, which would be the remaining title announced for Japanese release from Atlus with no confirmed localization. We expect to hear from Atlus either way for all three titles in the coming week.