Johto Legends promises to be an epic journey for fans.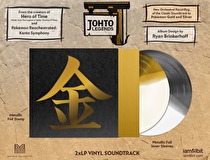 Pokémon and classical music come together once again with the upcoming release of Johto Legends, a one-hour orchestral album celebrating Pokémon Gold and Silver. Composed and arranged by Braxton Burks, the project is already nearly fully funded on Kickstarter and pre-orders for a deluxe vinyl set are slated to start tomorrow, May 31, at 8am PST on iam8bit.com.
Based on the original score by Junichi Masuda, Go Ichinose and Morikazu Aoki, the album will feature a orchestral arrangements of nostalgic music Pokémon fans are sure to remember, performed by seven talented musicians with video game performance backgrounds. The Kickstarter offers several reward tiers, including artwork, a digital album, and a backer-exclusive vinyl edition. Pre-orders for the vinyl set outside the crowdfunding campaign will cost $40 and include a foil stamped jacket with gold and silver inner sleeves, 2xLP pokeball vinyl discs, and an "Epic Gatefold Illustration" that will be unveiled closer to release. A digital download will also be included.
Burks has previously funded two other Pokémon-themed orchestral albums that he composed and arranged. His first, Kanto Symphony, built on the original music from Pokémon Red and Blue, while his second, Double Team!, took a different approach and pulled together classic melodies from across the Pokémon series. Both albums appeared on Billboard charts and were released internationally.
The album is slated to release this December.
You can listen to synthesized preview mockups below: