Save transfer will be happening for Japan, at least.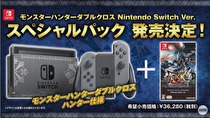 Following last night's announcement of Monster Hunter XX for Switch, Capcom has revealed the release date and more details about how the title will work with existing Monster Hunter games.
The game will release on August 25 in Japan for ¥5800 (before tax), with a Switch bundle including a special system and dock design releasing the same day for ¥36,280. It appears the bundle will include a physical copy of the game.
The Switch version will also support four system local play, and will be able to play with the 3DS version of Monster Hunter XX via the internet. Save data will transfer between the XX versions and also the original Monster Hunter X (Generations outside of Japan). On TV, the game is expected to run at 1080p resolution.
That's it for news. Aug 25, data transfer from MHX and MHXX 3DS to Switch. Cross play over Wi-Fi between 3DS and Switch. 1080p resolution

— Gaijinhunter (@aevanko) May 27, 2017