A busy summer for the team at Inti.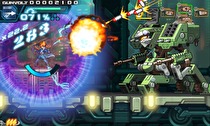 As promised, Inti Creates has made a pair of game announcements at this weekend's BitSummit games festival in Japan.
A collection of the two Azure Striker Gunvolt games will be coming to the Switch on August 31 worldwide. The enhanced edition of the 2014 and 2016 3DS eShop titles will include enhanced graphics menus, Pro Controller support out of the box and all of the downloadable content for 2. The games will also run at double the framerate of the 3DS games. Japanese pricing was announced at ¥5400 for a physical copy, ¥8640 for a special edition that includes a soundtrack and anime OVA, and ¥4800 for a digital copy.
The previously confirmed by Famtisu Mighty Gunvolt Burst has additional details. The Switch version will launch first worldwide on June 15, with the 3DS version following on June 29. Both versions will cost US$9.99 or equivalent. In addition to the Burst Combo mechanic mentioned in Famitsu, there will be additional options for character growth and Pixel Stickers that can aid in customization.