Now you can save the world with Einstein and Peter Griffin.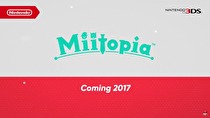 The most mysterious Japanese game of 2016 will be the West's most mysterious game of 2017.
Miitopia, the RPG where Miis are the stars, will be coming to the West before the end of the year. Both Miis in the 3DS's Mii Maker and specially created ones can take part in the adventure.
For more details on Miitopia, check our review of the Japanese version.