No word on localizations yet, obviously.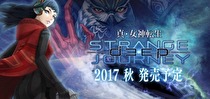 Atlus held their anniversary livestream yesterday which featured a couple of new announcements.
In addition to re-announcing the Radiant Historia Perfect Chronology, Atlus announced Etrian Mystery Dungeon 2 and Shin Megami Tensei: Deep Strange Journey. Etrian Mystery Dungeon 2 is a sequel to the 2015 roguelike crossover, while Deep Strange Journey is an enhanced remake of the 2010 first-person RPG that features a new playable character and story path.
Etrian Mystery Dungeon 2 will release in Japan on August 31, and Deep Strange Journey is slated for release this fall.