Gotta catch 'em all... especially the party hat Pikachu!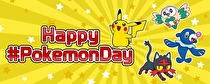 The Pokémon Company is commemorating their 21st anniversary this week with special promotions and events for Pokémon Day. While not as flashy as last year's milestone event, fans will have plenty to do to celebrate their favorite series.
Pokémon Go has released special party hat Pikachu into the wild. From now until March 6, any caught Pikachu will keep its festive hat forever, similar to December's Santa hat Pikachu.
Participating GameStop locations will give players a Bottle Cap item for Pokémon Sun and Moon until March 5, which will boost the individual strength of a single stat via Hyper Training.
The Pokémon store has released the first set in their new Gallery Figures collection in celebration of another year. The set features fan-favorite Pokémon Eevee, Mew, Pikachu and Magikarp in attack poses.
For a limited time, fans can also watch Pokémon: The First Movie, Pokémon 4Ever and Pokémon—Zoroark: Master of Illusions on Pokémon TV either through the website or mobile app. Or, you can head on over to Twitch.tv/Pokemon if you need a break from the anime. The channel will feature an all-day marathon of memorable TCG, video game and Pokkén Tournament matches from the past several years.
The Pokémon Trading Card Game Online will be giving players extra Trainer Tokens on the Bonus wheel, plus a special Daily Bonus today only. Pokémon Shuffle is also celebrating with special promotions. Check out in-game notifications for more information.
In addition to all these events, players are encouraged to post their favorite memories using #PokemonDay. Photos will be shared on the Pokémon Day social hub gallery.