Don't disable the disc drive just yet.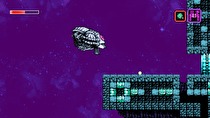 Another Wii U indie hit will be getting a disc release soon.
Developer Thomas Happ has announced a deal with BadLand Games to create a physical version of Axiom Verge for the Wii U, as well as the PlayStation Vita and PlayStation 4. No release date has been given for the new version, which will retail for $29.99/€29.99/£24.99.
The Wii U version will be a special "Multiverse Edition" that includes the game on disc, a booklet with art and commentary, a making-of DVD and a double-sided poster.