Step 1: Greenhouse. Step 2: ? Step 3: PROFIT!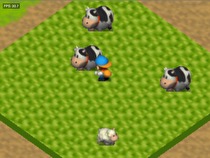 An often-requested rare title from the Nintendo 64 will hit Virtual Console for Wii U in both North America and Europe this week.
Harvest Moon 64 will release on Thursday for standard N64 Virtual Console pricing ($9.99 in NA, €9.99/£8.99 in Europe/UK). The US version will release on both stores, and this Wii U release will be the first time the game launched in Europe.
Unspecified technical issues prevented the game from releasing on the Wii.