Prepare for about ten thousand hours of level grinding.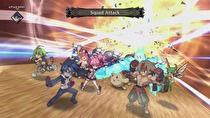 NIS America announced a few upcoming titles at a press event this evening in Los Angeles.
In a stunning development Culdecept Revolt, the 2016 card battling game published by Nintendo in Japan, will be localized by NISA this summer. This is the first Culdecept title to release outside Japan since the Xbox 360 version came out in 2008.
Disgaea 5 Complete, a Switch version of the 2015 PlayStation 4 RPG with all of its downloadable content, will drop in North America on May 23. The European release was announced as 26 May earlier in the day by British trade magazine MCV.
In a possibly unexpected move, NISA also announced that RPG Maker FES would be localized for the 3DS this summer. The late 2016 release from frequent partner Kadokawa (original publishers of the Rodea games on Wii U/Wii/3DS) also offers a free application for the eShop that serves as a player for games created and uploaded. Although several RPG Maker games have been localized for Windows, this is the first console title to cross the Pacific since RPG Maker 3 on the PlayStation 2 in 2005.