A busy weekend down at Squid Research.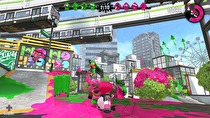 New details have emerged from Squid Research regarding some of Splatoon 2's options for private battles, as well as a chance to play with its new weapons.
There will be a Global Testfire held for Splatoon 2 the weekend of March 24-26 (US time). The global demos will be one hour long and feature testing for four weapons including the Splat Duelies. Demo times are as follows (all times US Pacific or GMT -8):
March 24, 12:00 - 1:00pm
March 24, 8:00 - 9:00pm
March 25, 4:00 - 5:00am
March 25, 12:00 - 1:00pm
March 25, 8:00 - 9:00pm
March 26, 4:00 - 5:00am
Also revealed at the lab this weekend were an option for 8-system local area network (LAN) private matches, and an option for up to two people to spectate private matches with camera control. The existing Splatoon amiibo will also work for Splatoon 2, though the nature of their effects has not yet been revealed.