Love is in the air... if you love pink Pokemon.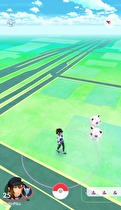 Pokémon Go's latest event was announced this morning, and they're going all out for Valentine's Day. From a pink palette to sweet candies, Niantic is diving headfirst into seasonal love clichés.
Starting today, trainers can earn double the amount of candy for every Pokémon they catch, hatch and transfer in the game while Buddy Pokémon will earn candy twice as fast. Lure modules will also last for a whopping six hours instead of the usual 30 minutes.
However, the most noticeable difference will be the sudden increase in pink Pokémon trainers will encounter. Chansey, Clefable and more will appear more frequently while Cleffa, Igglybuff and Smoochum will hatch more often from eggs.
Catch 'em while you can, as this event will end 11:00am PST on February 15.