No matter which side of the Atlantic you're on, there's something rare this week.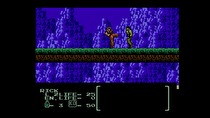 The eShops are light this week as we move over closer to Switch Day One. The eShop releases are all for 3DS, as we have the latest bit of Lightwood Studios wordplay and a follow-up to Quiet, Please! in the same mold. Honestly, the biggest non-VC release of the week might be Pokémon Bank's Sun and Moon updates.
But on the Virtual Console for North America, it's a different story. There's three more games from Culture Brain's NES catalogue this week with Flying Warriors, Kung-Fu Heroes and Little Ninja Brothers. The last two (at least) have co-op for some interesting multiplayer fun from the NES days.
Europe has North America's eShop schedule buffeted by a couple of older releases (Mini Golf Resort and the second Inchworm Animation title), while its VC is also handheld-locked today in the form of Castlevania: Dracula X. Clearly, Wii U owners should dive into the big Legend of Zelda sale for My Nintendo members.
UPDATE: The Zelda deal is currently showing as a one-time offer, but Nintendo of Europe is working on a fix.
North America
3DS eShop
Word Search 10K (US$7.99/C$9.99)
Candy, Please! ($1.99/$2.59)
Wii U Virtual Console
Flying Warriors (NES) ($4.99)
Kung-Fu Heroes (NES) ($4.99)
Little Ninja Bros (NES) ($4.99)
Sales and Price Drops
Highlights: Power Disc Slam sale is expected
Europe
3DS eShop
Butterfly: Inchworm Animation II (€7.99/£7.19)
Word Search 10K (€7.99/£7.19)
Mini Golf Resort (€4.99/£4.49)
Candy, Please! (€2.25/£1.99)
New 3DS Virtual Console
Castlevania: Dracula X (€7.99/£7.19)
Sales and Price Drops
My Nintendo members are eligible for a 30% discount on all Legend of Zelda titles in the eShop (including DLC for Hyrule Warriors and Hyrule Warriors Legends) and 50% off all Zelda-related themes until 9 February.
ZeNfA Productions titles have been permanently reduced: ZaciSA: Defense of the Crayon Dimensions is now €1.49/£1.19 and Hot Rod Racer is now €0.99/£0.69
Kutar titles (Apple/Burger Factory/End Credits/Powder Factory/Ski Lift) are 30% off until 9 February.
EnjoyUp Games titles are on sale until 23 February.
Joindots titles are on sale until 9 February.