The last game is a player's choice.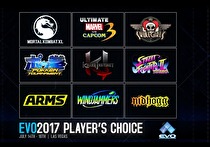 Super Smash Bros for Wii U and Super Smash Bros Melee will be returning for a 3rd consecutive year at EVO 2017.
The mascot fighters will be a part of a 9-game main field for the world's largest fighting game tournament, to be held July 14-16 in Las Vegas, NV. Joining the Smashes will be Street Fighter V, King of Fighters XIV, BlazBlue Central Fiction, Injustice 2, Guilty Gear XrD Revelator (Rev 2) and Tekken 7.
A fan's choice charity drive will determine the 9th game in the field. Pokkén Tournament and ARMS are in the field along with Mortal Kombat XL, Super Street Fighter II Turbo, Ultimate Marvel vs Capcom 3, Skullgirls: 2nd Encore, Killer Instinct (Xbox One/PC), Nidhogg and Windjammers.