Plus a release date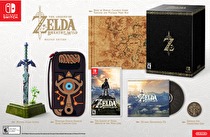 The Legend of Zelda: Breath of the Wild will be one of the centerpieces of the Switch launch lineup, and Nintendo is going all out for it.
The March 3 release will feature three editions: A standard edition for US$59.99, a "Special Edition" for $99.99 that includes a carrying case, coin, a Calamity Ganon tapestry and a Sound Selection CD in addition to the game. The "Master Edition" includes all of the above plus a Master Sword of Resurrection figure for $129.99.
In addition to the two Link and the Guardian Amiibo figures announced at E3 2016, there will also be Amiibo for Zelda and the Bokoblin, while the Wolf Link previously bundled with 2016's Twilight Princess HD will receive a standalone release on February 3. The Guardian Amiibo MSRP will be $19.99, while the other Breath of the Wild figures will be $15.99.