A couple of early wins for Nintendo at tonight's ceremony.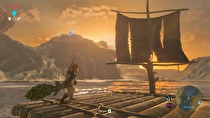 The 2016 Game Awards saw Nintendo pick up three awards out of the nominations.
Pokémon Go captured the Best Mobile/Handheld Game (over Severed, Monster Hunter Generations and Fire Emblem Fates) and Best Family Game (over Lego Star Wars: The Force Awakens and Skylanders Imaginators). The Legend of Zelda: Breath of the Wild was voted most anticipated game.
In the other categories with Nintendo entries, Best Independent Game went to Inside over Stardew Valley (recently confirmed for the Switch), Civilization VI edged out Fire Emblem Fates in Best Strategy Game, The Witcher III: Blood and Wine topped Xenoblade Chronicles X for Best Role-Playing Game and Street Fighter V beat Pokkén Tournament for Best Fighting Game. Juan "Hungrybox" Debiedma was unsuccessful in the Best eSports Athlete category.
Breath of the Wild had two preview videos during the show: a new trailer, and a dungeon preview led by Bill Trinen and Nate Bihldorff.