A ten million worldwide shipment may not be enough. UPDATED WITH AMERICAN REGION NUMBERS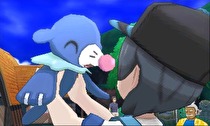 Early returns for Pokémon Sun and Moon are setting records in some territories.
Nintendo UK has reported the first week sales of the newest Pokémon main series games crossed 1.5 million in Europe, with over 368,000 of them in the UK alone. This is the biggest launch week for any Nintendo title, regardless of system, in Europe
Japanese sales for the first nine days of sale are 1,966,294 units according to MediaCreate, while Famitsu (which includes sales of download cards) is estimating approximately 2.33m units. Nintendo has reported a worldwide shipment of 10 million copies.
UPDATE: Nintendo of America has confirmed sales of over 3.7m units in the Americas since the November 18 release, which also sets a record for the region.