Life on the farm will be a little bit more portable.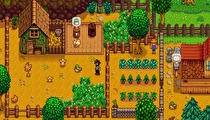 The planned Wii U version of Stardew Valley has been moved to the Nintendo Switch.
In a post on the game's blog, the developer confirmed the release dates for the PlayStation 4 and Xbox One versions while noting "Looking at Wii U and the current gaming landscape, we made the difficult choice to shift our development efforts to creating a version for Nintendo Switch."
The Wii U version was announced on the first day of E3 this year.