It's been a busy week down at Niantic.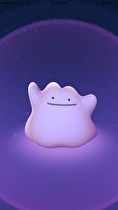 Pokémon Go received a slew of announcements this week in anticipation of the holiday season. In just a couple days, a Thanksgiving event was announced, Ditto appeared, CP levels were adjusted and the Nearby feature was expanded.
Last night, players were finally able to catch Ditto, an addition that was confirmed this morning by Niantic. This shapeshifter will disguise itself on the map as another Pokémon, only revealing its true identity after a successful capture. Then, when used in gyms, it will copy the appearance, type and moveset of the first Pokémon it encounters.
Niantic has also adjusted the CP for all Pokémon currently in the game to create a more balanced experience in gyms. Support for the reworked Nearby feature, which shows steps as well as a picture of its nearest landmark, has been expanded as well:
USA: All states west of the Mississippi River (except Hawaii and Alaska)
Canada: BC, Alberta, Saskatchewan, Manitoba and the western half of Ontario
Australia: All states and territories
Finally, trainers can experience an unofficial Thanksgiving event starting today and ending November 30. Touted as a thank you to users around the world, players will earn double XP and double Stardust for every in-game action.