Along with a rather shaky game from a well known Nintendo developer.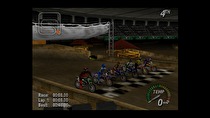 Nintendo's game list for North America has revealed tomorrow's releases, and one is a first for any Virtual Console.
Excitebike 64, a 2000 N64 game developed by Left Field Productions, will release tomorrow for standard N64 pricing ($9.99 US/CDN). A more modern interpretation of the old NES game, Excitebike 64 takes cues from Wave Race 64 in its jump handling and has a full track editor. Its release is the first time it has come out on any Virtual Console.
Joining Excitebike 64 tomorrow will be Wario Land: Shake It from the Wii. Already out in Europe and Japan, the 2008 Wii title was an early collaboration with future Kirby's Epic Yarn/Yoshi's Woolly World developers Good Feel.