Some of this might be familiar from the demo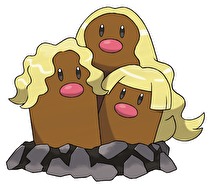 The Pokémon Company released the final pre-launch trailer for Pokémon Sun and Moon today.
Each Alolan starter's final form will have an exclusive Z-move: Decidueye will launch Sinister Arrow Raid, Incineroar will land a Malicious Moonsault, and Primarina will perform an Oceanic Operetta.
A couple of new Ultra Beasts, #3 "Lighting" and #5 "Gluttony" were revealed, striking a Slowbro and a Carbink for major damage. Two new Alolan forms were also revealed: Diglett and Dugtrio will now be Ground/Steel types with the "Tangled Hair" ability replacing Arena Trap that lowers Speed on contact. Alolan Dugtrio was first spotted in the special Sun and Moon demo.
Finally, all regions will have access to the mythical Magearna through QR scanning, with details to come for North America shortly. Magearna joins Ash-Greninja (from the demo) and Munchlax (a launch Mystery Gift) as gift Pokémon in Sun and Moon.