It's new styles, not players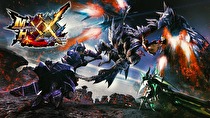 Monster Hunter X (Generations) will be getting an expanded version next March.
Monster Hunter XX (pronounced "double cross") was announced today for a March 18, 2017 release in Japan on the 3DS. The new game will feature two new hunting styles and harder G-Rank quests in addition to all of the Generations content.
Save data from Monster Hunter X will provide bonuses in the new game, as happened with Monster Hunter 4G and the original MHX.