Going to have to wait a couple of hours to add that card for the Monster Hunter Generations sale.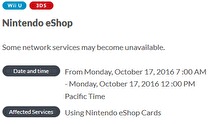 A very unusual Nintendo Network maintenance is coming early next week.
The maintenance is scheduled to occur from 10 am - 3 pm Eastern (7 am - noon Pacific) and the only network service that will be down is "Using Nintendo eShop Cards".
The root cause of the maintenance has not been announced, nor how this will affect the activation of cards during that time.