And the buy one get one is complete.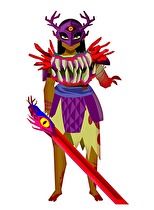 We now have a release date for one of the missing pieces of the Nindie Summer Jam in North America.
Severed, the touchscreen-based action game from Drinkbox Studios, is set to release this Thursday, according to the game's listing on the Nintendo website. The Wii U version released on September 22, and owners of the Wii U game will be able to get the 3DS version free through crossbuy. It appears the 10% launch week discount will be honored, as the game originally showed a $14.99 price but is now showing $13.49.
Neal gave the Wii U version a 8 in his review.