An oddity in nearly 2 years of game preloads.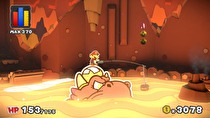 Paper Mario Color Splash releases at retail on October 7, but digital preloaders may have the full game now.
First found by @Electivirus on Twitter, the 8GB preload appears to include the unlock key that is normally only made available at midnight Eastern time on the day of release.
IT'S TRUE

DIGITAL COPIES OF COLOR SPLASH CAN BE PLAYED RIGHT NOW DDMFKJDJFBF pic.twitter.com/We2Bed3M2a

— Alola Form Bidoof 🐻 (@Electivirus) September 23, 2016
UPDATE: We have confirmed that the preload did unlock the full game temporarily, but the preload option has been removed from the game's eShop page. Presumably, those who downloaded and ran the game before the shutdown at about 8:45 Eastern will get to keep the game.
Letsa go pic.twitter.com/sJzrfcADTf

— Donald Theriault (@DonaldMick) September 23, 2016