NCL snuck in a surprise at the end of the latest Japanese Nintendo Direct.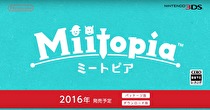 Miitopia, an upcoming Nintendo 3DS title, was announced during the latest Nintendo Direct in Japan and is slated to come out at some point in 2016. Details were non existent during the Direct, as presenter Morimoto-san told fans to wait for a healthy does of information sometime in the near future. Miitopia did not appear on Nintendo Directs outside of Japan.
If you want to check out what was shown in video form, check the Japanese Nintendo Direct below around the 41:18 mark.