That sound you heard was the entire staff rejoicing.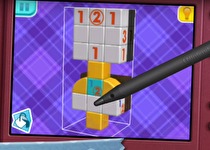 Picross 3D: Round 2 is finally crossing to the West.
The sequel to the 2010 cult puzzle hit will launch today in North America on the eShop, with an exclusive demo as well. Europe will receive the game on December 2 both at retail and the eShop.
The game allows for painting of the blocks and can also use amiibo to generate puzzles.