Mama mia, that's a lotta Mario.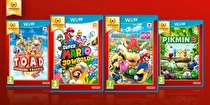 The European Nintendo Selects line will pick up some new members late next month.
Pikmin 3, Super Mario 3D World, Captain Toad Treasure Tracker and Mario Party 10 will be added to the lineup on 30 September. Although retail pricing was not announced due to European policy, the digital prices will lower to €24,99/£19.99.
All four games have either been made part of North America's Nintendo Selects program or will be receiving bundles with amiibo next month there. They will release the same day as the "Nintendo eShop Selects" line with the SteamWorld Collection and FAST Racing NEO.