There's two people making Metroid games: Next Level Games and Thomas Happ.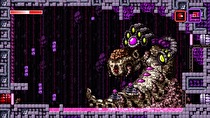 Axiom Verge will complete its long, strange journey to the Wii U early next month.
The tribute to classic Metroid will release on September 1 for US$19.99 / C$21.99 / €17.99 / £14.99, according to the game's official website.
Originally released on the PlayStation 4 and PC with a later port to the PlayStation Vita, there was some concern about engine incompatibilities on the Wii U but those issues have been rectified.