Fast blasting, high scoring and ties!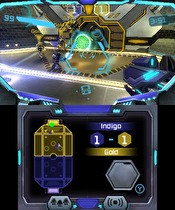 One part of Metroid Prime: Federation Force has just dropped on the eShop.
The Blast Ball multiplayer game is available now as a free download. First shown at the 2015 Nintendo World Championships, the 3-on-3 multiplayer game was later revealed to be a side part of Federation Force. The demo will support online servers until the full game releases on August 19 (NA)/2 September (Europe).
The announcement was made at the end of the latest Federation Force "Mission Briefing" video. For more information on how Blast Ball plays in its final form, check out Daan's hands-on preview.