Seamless movement and massive adventure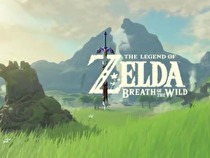 After three and a half years of questions, we finally have a name for the new Legend of Zelda title: Breath of the Wild.
The trailer video showed Link cutting down trees, climbing mountains and using spears, bows and axes in a open world, as well as combat and environmental puzzles. A voiceover was included as well as a male Link.
The Legend of Zelda: Breath of the Wild was reconfirmed for a 2017 release on both Wii U and NX.