So much for all Zelda, all the time.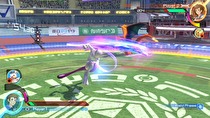 Nintendo's E3 plans will include a lot of Zelda, but a lot of other things as well..
The first sign came when the Japanese Twitter account for Pokémon sent a message today confirming both Pokémon Sun and Moon as well as Pokémon Go, would have a presence at Treehouse Live.
「Nintendo Treehouse: Live @ E3 2016」で、ポケモンの最新情報を紹介! ニコニコ生放送でチェックしよう!https://t.co/0pbP1brvI5 #ポケモン_サン・ムーン #PokemonGO pic.twitter.com/HEDLHwsR3r

— ポケモン公式ツイッター (@Pokemon_cojp) June 2, 2016
Nintendo later followed up with a press release confirming the Treehouse Live show would now be a two-day affair, with day 1 being Zelda for Wii U and Pokémon Sun and Moon. Day 2 will feature "upcoming Wii U and 3DS titles" including (but not limited to) Monster Hunter Generations, Tokyo Mirage Sessions #FE and Dragon Quest VII. There will also be an opening Q&A about Pokémon Go at 10 am Pacific / 1 pm Eastern on Day 2.