These will certainly stand out in the crowd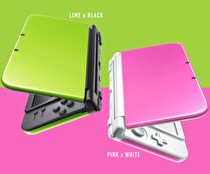 Japan is adding two more colors to the New 3DSXL's palette.
On June 9, the system will have two new colors: Lime Green/Black and Pink/White. The systems will sell for a tax-included price of 20,304yn (approximately $185US). No Western release has been announced for the colors.
The announcement coincided with a Japanese-only Direct video for Culdcept Revolt, which will release on July 7.