One was a security flaw, one for reasons unknown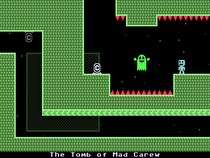 Two of the 3DS's older digital titles have been removed from the eShop, and though one is temporary the fate of the other is up in the air.
2011 indie darling VVVVVV was recently removed following a tweet from creator Terry Cavanaugh about the game possibly being a vector for hacking the system:
So apparently there's a way to use VVVVVV on 3DS to run homebrew! That's unexpected! https://t.co/UHcwm7T2Ue

— Terry (@terrycavanagh) May 2, 2016
As with previous pulldowns for security flaws, the title should be restored following a patch.
The other title recently removed was 2013's Project X Zone. Although its sequel came out earlier this year, BandaiNamco has not spoken out about the game's removal, and attempting to redownload it results in an error message.