Friend of the site Damon Baker is an Axiom Verge slow-player.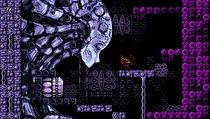 Following a brief hiccup of Youtube privacy, Nintendo released a video spotlighting some of the games coming to Wii U and 3DS in the coming months.
The video, hosted by Nintendo 3rd party relations chief Damon Baker, gave special spotlight to the upcoming Tumblestone and Axiom Verge. Both games received updated release windows: summer for multiplayer puzzle game Tumblestone, and by the end of June (Q2) for Axiom Verge.
The following games were in a sizzle reel as well:
Shantae: Half-Genie Hero
Super Meat Boy (first acknowledgement in North America)
LEGO Star Wars: The Force Awakens
Noitu Love: Devolution
Jotun: Valhalla Edition
Zarvot
Ectoplaza
Corpse Party
The Battle Cats Pop!
Azure Striker Gunvolt 2
7th Dragon II Code: VFD
Lifespeed (New 3DS Exclusive)
Sega 3D Classics Collection
Monster Hunter Generations