You might say it's the best+.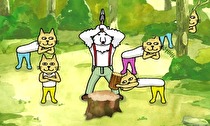 The long awaited Rhythm Heaven compilation for 3DS will launch this year in North America.
Known as Rhythm Heaven Megamix, the game is confirmed for a 2016 release. The 100 missions will include 70 levels from the GBA, DS and Wii Rhythm Heaven titles and 30 original levels.