Now with a "2016" release date!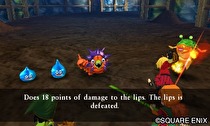 The long requested Dragon Quest VII (with new subtitle Fragments of the Forgotten Past) remake is making it's way to North America this year.
The game was talked about briefly in today's Nintendo Direct. It's a brand new version of the original PlayStation title, built from the ground up with new graphics and gameplay exclusive to the Nintendo 3DS. Of course, with it coming to North America, a completely new translation is also being worked on.
Originally announced for a Summer 2016 release, the game is now simply just scheduled for 2016.