Time to do a barrel roll because First4Figures has launched their Star Fox line.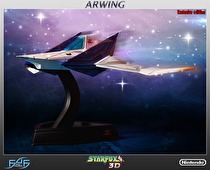 A new limited edition Star Fox Arwing statue is now available for pre-order from First4Figures. The Arwing is modeled off the version seen in Star Fox 64 and comes in two different versions.
The first version is the Exclusive variant that can only be obtained from the manufacturer's website. What makes this one special is that the Arwing's engine has a purple LED that can be turned on giving it that extra wow factor. The exclusive variant is being sold for $299.99. Those looking for a slight discount can enter the coupon code "ARWINGEX20" for $20.00 off this version.
The other version is the Standard edition. This is the same as the Exclusive version except it does not include the light up engine. This variant goes for $279.99.
On their stand both versions are 12" inches tall by 12" deep by 18" wide, making it a decently sized piece. These are the first in the Star Fox line from First4Figures so low edition numbers will be handed out on a first come first served basis. Additionally, the edition size of both versions has yet to be determined, but when the initial pre-orders close in two weeks a final number will be decided. So Star Fox fans better hurry if they want to guarantee themselves one of these collectibles.