The biggest fighting game tournament in the world will feature heavy Nintendo representation.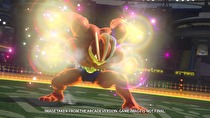 A third of the main lineup for the world's largest fighting game tournament will be on Nintendo systems.
Pokkén Tournament will join last year's Super Smash Bros Melee and Super Smash Bros for Wii U in the lineup for the EVO 2016 tournament, which will run from July 15 - 17 in Las Vegas. The other games in the lineup will be Street Fighter V, Mortal Kombat X, Killer Instinct (Xbox One), Ultimate Marvel v Capcom 3, Tekken 7 and Guilty Gear Xrd Revelator.
Unlike last year, the Super Smash Bros for Wii U tournament will allow DLC characters as the whole lineup will be available by the time the tournament rolls around. Pokkén will use the game's LAN mode to facilitate tournament play.