A 3rd wave of Animal Crossing characters may be coming.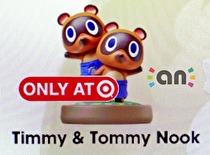 Updated Amiibo kiosks in North American retailers have revealed a few new Amiibo, and a couple of retail exclusives.
Target has revealed the Famicom-colored R.O.B. will be sold in America, and new Animal Crossing Amiibo will be made for Kapp'n, Rover and Timmy and Tommy Nook as a single Amiibo. The Nooks will be a Target exclusive.
GameStop has a similar kiosk that has revealed the Roy Amiibo to be exclusive to that retailer in the United States.
High resolution images courtesy Nintendo Inquirer