Randomly generated levels and the ability to really get down to business.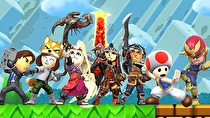 The new Smash updates are now live and have added two new stages for each version with new Mii costumes.
Both the Wii U and 3DS versions can now purchase the Super Mario Maker stage as previously announced. The Wii U version can also purchase an updated version of the Pirate Ship (Wind Waker) stage from Super Smash Bros Brawl, while the update automatically adds the Wii U's Duck Hunt stage to the 3DS edition at no cost.
The new Mii costumes are two sets from Monster Hunter 4 Ultimate, a Toad outfit, a business suit, the Viridi from Kid Icarus Uprising and Mii outfits for Fox and Captain Falcon.
Pricing for the new content:
Super Mario Maker stage - US$2.49/C$3.19 for one version, $3.49/$4.39 for both
Wind Waker stage: $1.99/$2.49 (Wii U only)
Mii costumes: $0.75/$0.99 for one version, $1.15/$1.49 for both
Full packages: All the Mii costume sets are $5.25/$6.93 for one, $8.05/$10.43 for both. The bundle of all new content is $7.74/$10.12 on 3DS, $9.73/$12.61 on Wii U and $13.53/$17,31 for both versions.