The latest Nintendo themed statues are now available for pre-order.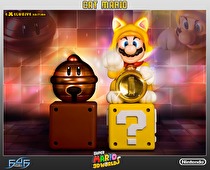 Various collectable Cat Mario statues have just been put up for pre-order from manufacturer First 4 Figures. Three different variations of the Super Mario 3D World inspired piece are being sold, all of which are scheduled to ship out in Q2 2016.
All three version of the figure are the same size standing at 15 inches tall. The Standard variant comes with just Cat Mario standing on a Question Mark Block, is limited to 2000 pieces, and costs $209.99. The Exclusive version includes the same Cat Mario statue as in the Standard version, but also includes a statue of a hit Block holding a Lucky Bell power-up on top. The Exclusive version is limited to 750 pieces and costs $259.99.
Finally, for the first time ever, First 4 Figures has a Super Exclusive version of one of their statues. The Lucky Cat Mario statue comes with everything included in the Exclusive Version, but it has a nice looking shiny gold finish on both pieces included in the bundle. The Lucky Cat Mario statue will be the rarest First 4 Figures statue yet with only 125 pieces being produced and is being sold for $399.99. Those wishing to get one now will have a hard time though, as all the pre-orders sold out quickly and anyone looking for one will have to be placed on a wait list.