Nintendo's Shigeru Miyamoto confirms the delay of the major Wii U holiday title to early 2016.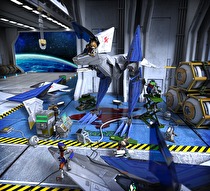 Star Fox Zero is no longer due out on November 20, 2015 as the marquee Wii U game is being pushed back to Q1 2016 according to Nintendo.
Shigeru Miyamoto made the decision to delay the game last week, as per a statement posted on Facebook. Miyamoto explained that they "have already reached the stage where it would be technically possible to release the title in time," but that Nintendo and Platinum Games want to polish the game so "players will be able to more smoothly grasp the new style of play."
He elaborated: "Although we felt that the development had been progressing well, we now believe that we will need a little more time to work on areas such as the unprecedented discovery that we want players to experience in the game by using two screens, and further polishing the level designs and perfecting the tone of the cut scenes."
In the statement, Miyamoto stressed that the delay won't be a long one and that the new anticipated release date for Star Fox Zero is Q1 2016.
With the delay, Nintendo's holiday 2015 Wii U lineup in North America now just contains Yoshi's Woolly World (October 16), Animal Crossing: Amiibo Festival (November 13), Xenoblade Chronicles X (December 4), Devil's Third (December 11), and Mario Tennis: Ultra Smash (Holiday) in addition to a few eShop games such as Fatal Frame: Maiden of Black Water.