It suddenly got very Norse in here.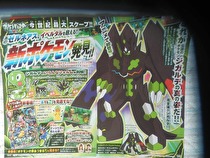 CoroCoro magazine in Japan has revealed what appear to be the first new forms of Pokémon for the swan song of the 6th generation.
The magazine lists four alternate forms of Zygarde (#718):
Zygarde Core: the brain of the Pokemon, the item teased at the end of the last movie in Japan
Zygarde Cell: A smaller, single-celled version of Zygarde
Zygarde 10%: Modeled after a wolf (Fenrir), moderately powerful
Zygarde Perfect: A giant, golem-like creature said to be stronger than X and Y's mascots Xerneas and Yveltal, resembles depictions of Loki
The existing Zygarde is now known as "Zygarde 50%".
These new forms were announced as part of the new season of the anime in Japan known as "Pokémon XY&Z", along with a form of Greninja that appears to be wearing clothing similar to Satoshi/Ash known as the "Satoshi Greninja". As of yet, no game has been announced with these Pokémon, or if any of them will even appear in a game.