Get ready for your own G(archomp)1 Climax.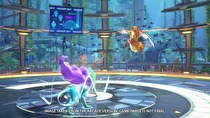 The 2015 World Pokémon Championships kicked off with a major Wii U announcement.
Pokkén Tournament has been announced for the Wii U, releasing in all territories in Spring 2016. The game is currently going through balance testing in Japanese arcades.
The announcement also confirmed that Pikachu Libre, a Fighting-typed form Pikachu featured in Pokémon Omega Ruby/Alpha Sapphire, will be playable in the Wii U game.
The game's trailer can be seen below: