Atlus bringing it once again with their physical releases.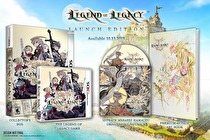 Atlus has prepared another launch edition for a 3DS game, this time for The Legend of Legacy.
Launch editions of the game will include a hardcover 40 page artbook and a 10-track sampler CD, plus a protective case that will make the box measure 6" x 8". This edition will be available for preorders as well as a supply at the game's launch.
The announcement of the launch edition also confirmed the game will release on October 13 in North America, as had been suggested by some retailers (notably Best Buy Canada).